The best cosmetics with evening primrose oil – a remedy for dry skin and hair
Evening primrose Oenothera biennis is an inconspicuous, yellow plant that in comparison to others, does not look very impressive. However, the situation changes once you start talking about its cosmetic properties. Oil cold-pressed from evening primrose plant is one of the best substances than can be used for beauty purposes. It is suitable for hair and skin care because it provides strong regenerating, nourishing and moisturising properties. On your skin and hair, it creates an occlusive layer that shields from damages. Evening primrose oil is an ideal additive to hair masks, hand creams, as a shower or bath emulsion. It perfectly regenerates epidermis therefore, it brings relief to irritated or burnt skin. Thus it is recommended to take such product with you on a trip to the beach or tropic and even to the mountain trail – it will perfectly protect your skin, hair from adverse weather conditions.
Where can you find the best quality evening primrose oil? Keep on reading.
Nanoil For High Porosity Hair
If your hair is extremely thin, dry, brittle, falls out excessively and lacks vitality – it is a sign that it is very damaged. Such strands have high porosity with gaps and holes in the cuticle. It is very difficult to maintain proper level of hydration of such hair type. Nanoil for high porosity hair is a remedy for fragile strands that lack brilliance and resilience. The version of Nanoil designed for damaged hair is composed of a range of valuable oils for regenerating, moisturising and smoothing purposes:
evening primrose oil – regenerates, moisturises and protects hair
avocado oil – is a vitamin boost for hair
sweet almond oil – nourishes and moisturises hair
argan oil – seals cuticles and protects from high temperature
cotton seed oil – softens hair, moisturises, regenerates and provides resilience
maracuja oil – valuable anti-age treatment and a source of vitamins
The composition of Nanoil hair oil also includes other ingredients that are responsible for improving hair condition. Because of the fact that when treating high porosity hair the key is to rebuild, regenerate and moisturise, Nanoil is facilitated with keratin (repairs damages on the hair surface), panthenol (smooths, improves colour and smooths hair), lanolin (softens hair and lubricates), UV filter (protects hair from sun radition), witamins E and A (strong antioxidants), silk (softens, smooths, polishes and improves resilience).
The uniqueness and effectiveness of Nanoil hair oil is determined also by two innovative components: kerastim and baicapil. Your hair will fall in love with them from the very first use. Those ingredients are able to thicken your hair, boosts hair bulbs to grow and regenerate strands from the roots.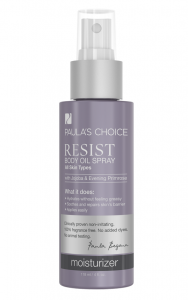 Resist Body Oil Spray by Paula's Choice
If your skin also needs hydration and firming – reach for a good cosmetic with the content of evening primrose oil. Resist Body Oil Spray by Paula's Choice is especially recommended. It outperforms a number of other products for body care, because it guarantees a rapid effect of hydration, while firms your skin and makes it more supple. Resist Body Oil contains evening primrose Oil (moisturises and regenerates skin), jojoba oil (balances the hydro-lipid barrier of the skin, tones it) and beautifully scented oil extruded from plum seeds (Prunus domestica). Paula's Choice oil is quickly absorbed and leaves no greasy film on the skin. Also, it ensures quick and easy application: simply spray your body or its selected parts that are exceptionally dry.
Paula's Choice Skin Recovery Super Antioxidant Concentrate Serum with Retinol
Paula's Choice has in its offer a range of very effective creams for facial care. If your skin needs renewal and regeneration, it is tired, fatigued and you see the first signs of ageing, reach for the sensational Skin Recovery Super Antioxidant Concentrate Serum with Retinol. The product is intended for normal to dry skin. It is a concentrated power of antioxidants and a dose of moisture for the skin. Skin Recovery Serum with the content of evening primrose oil leaves skin fresh, radiant, flawless, properly hydrated and the first wrinkles are smoothed. Aside from the precious evening primrose oil, serum Paula's Choice contains also a high dose of valuable retinol.